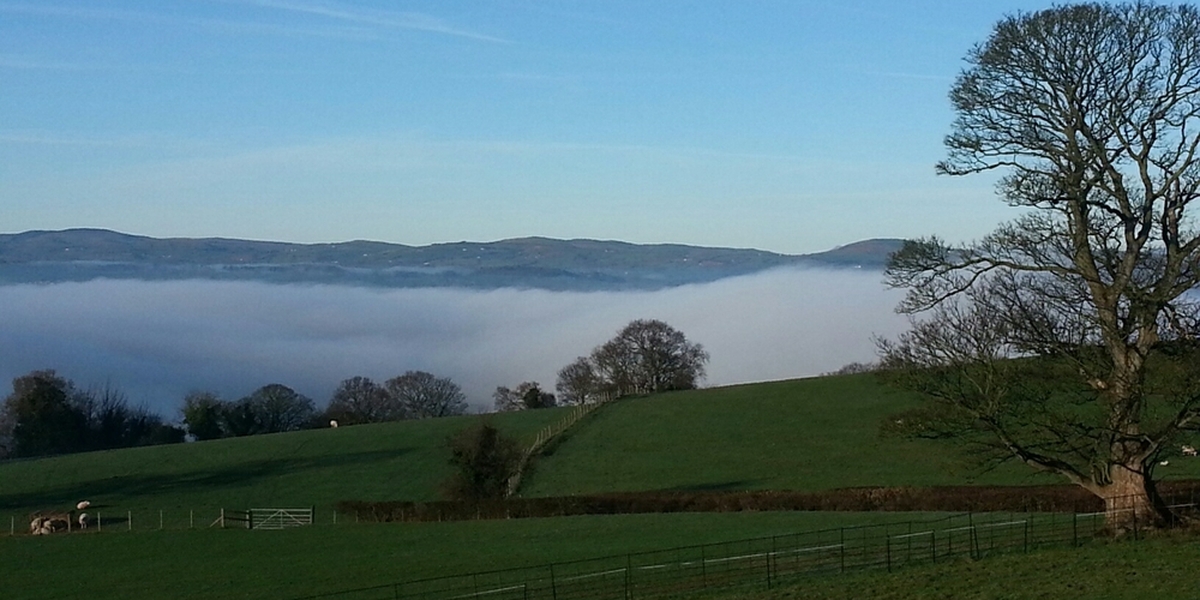 Walking the Vale of Clwyd and Offa's Dyke
The stunning views from Cae Gwyn are complimented by exhillarating walks in the surrounding countryside, whether you're planning on taking a gentle stroll or a robust walk on one of the many paths.
We are walker friendly and provide cleaning and drying amenities for your clothing and boots.
Vale of Clwyd - we are privileged to be located in an Area of Outstanding Natural Beauty (1 of only 5 in Wales). We have some maps available covering walks in the Vale and would be happy to help you plan a walk. Resources on the web are extensive, here is  one of the best:
www.clwydianrangeanddeevalleyaonb.org.uk/community-miles/
Scroll down to Tremeirchion map - we are proud to have Cae Gwyn marked on the map (no excuse to get lost!)
Loggerheads Country Park - part of the Clwydian Range, this park has a variety of walks in a lovely wooded river valley. Also has a family café and picnic area on site - great for those well deserved ice creams! Here's a link to an on-line map:
http://www.clwydianrangeanddeevalleyaonb.org.uk/files/77562385-Loggerheads%20leaflet.pdf
Offas Dyke - We are located just a few 100 metres off Offa's Dyke Path (1 of only 12 designated National Trails in the UK). The path runs 177 miles from Prestatyn in the north to Sedbury in the south.
We can help you with a number of local walks (right from your door) that incorporate part of Offa's Dyke Path. Here's a link to a great resource with outline information, maps and further links:
www.clwydianrangeanddeevalleyaonb.org.uk/offaandsharp-dyke-national-trail/
Alternatively, why not make Cae Gwyn your planned stop over as you walk the Path.
Pilgrims Way - a North Wales waymarked route ''linking ancient churches dedicated to the saints of the 6th century. Basingwerk Abbey in nearby Holywell marks the start of the Pilgrim's Way. The route leads through woodland and over rivers, up mountains and along coast paths, through wilderness and into villages''. For more detail see:
http://www.pilgrims-way-north-wales.org
We supply maps and information in the accommodation and are always happy to help you plan an enjoyable walk in our beautiful countryside